Social networks are the platforms that reflect the fastest trends online. Each user forms an online bond through their own social network and shares their lifestyle.
Early social networks were developed exclusively online as platforms for social solidarity, but are now reborn as huge commercial platforms based on big data.
Social networks collect big data from users, conduct target advertisements, or use it for commercial services, and generate huge sales.
As with most online platforms, the more users there are, the more powerful the platform's influence becomes, and the platform's algorithms have more power. For this reason, Meta, which has representative platforms of social networks such as Facebook and Instagram, recently held a hearing in the U.S. for using an algorithm that curates stimulating content that can negatively affect society. This is an example that has had a big impact worldwide.
Now we need to reconsider the significance of using more transparent algorithms and platforms, as well as social networks. The net function of these social networks will act as competitiveness in the coming era. So, what elements should the next generation of social networks have? OPP, a blockchain-based digital content platform, presents the answer to this question.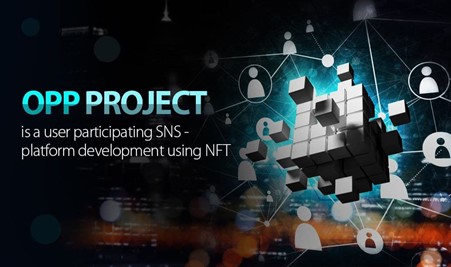 OPP predicts that most all-in-digital content platforms will follow WEB 3.0. Based on this, OPP aims to improve the net function of the digital content platform by protecting the rights, copyrights, and ownership of online content creators, which are becoming increasingly positioned day by day, and providing various rewards to content consumers and users.
Currently, OPP is making new attempts by combining blockchain-based SNS and digital content platforms. If OPP is launched in the world, the copyright infringement of content creators as well as the monopoly of digital content platform companies will be eroded.
Currently, OPP is developing a system to protect rights and interests such as content copyright and ownership using NFT. It is interesting that other digital platforms develop NFTs exclusively as digital content products, while OPP focuses on developing NFTs to be used more fairly and reasonably.
OPP is preparing various development news so far, and full-fledged issue announcements are being made this year. If you are interested in OPP, please refer to the URL below.